A high-end sofa that looks great
The club sofa is a timeless real leather living room, the decor is vintage or contemporary it easily fits in every home. The leather club sofa "Le Bourbon" is a club sofa 3 places upscale, friendly and comfortable French manufacture.
Each antique patinated sheepskin sofa is unique. We will manufacture yours with the utmost care in the shade you have chosen.
Club sofa in classic full grain leather, friendly and comfortable with rounded shapes, this club sofa is made in the purest artisan tradition. We offer a neat, old-fashioned patinated sheepskin with all the necessary comfort.
Showroom in Paris and online sales
You want to buy a club sofa: Feel free to visit us at the showroom located at 16 rue des Poissonniers in Saint Denis, or at the point of sale at 110 rue des Rosiers in Saint Ouen.
You can also order online your sofa club leather 3 places, we deliver throughout France. Neat manufacturing and home delivery in the room of your choice even upstairs.
For any question contact us on 01 42 52 33 81 or 06 75 24 92 41.
Your gift
For any purchase of a sofa club leather we offer a pot of wax maintenance.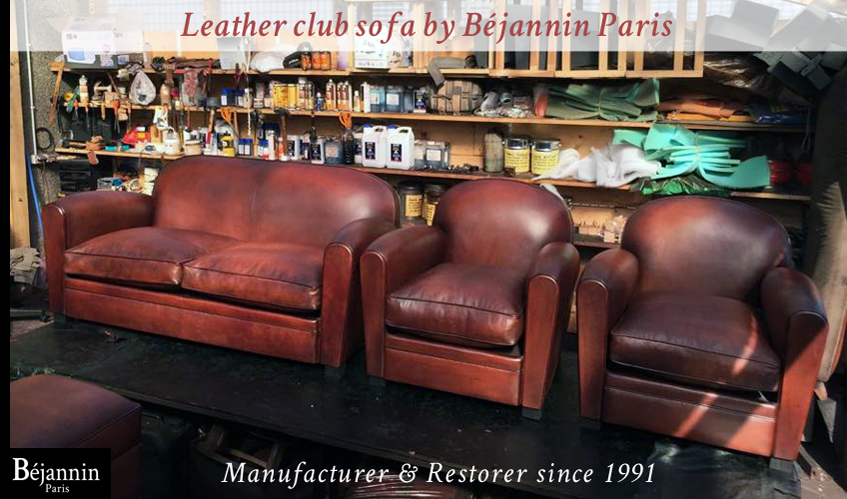 How to maintain your leather club sofa
Your leather club sofa can keep its beautiful appearance for decades if it is well maintained.
Full grain leather club sofa
Our club sofas are made with full grain leather. This type of leather can be compared to a natural wood, both are living materials that need to be nourished to maintain their original qualities and continue to beautify over time.
Cleaning
You can clean your leather club sofa with a wet sponge soaked in Marseille soap. A small amount of soap is enough, if you use too much it could blush the leather.
Shoe polish
The maintenance of the sofa club is simple and not binding: you wax it only 2 times a year.
Preferably use a natural wax tinted the same color as the leather of your furniture.
Daily maintenance
In everyday life you can maintain the most used parts of the leather sofa with a neutral cream without paraffin, then you will polish an hour later or the next day.
This care is highly recommended when the couch is exposed to sunlight or when placed near a heat source such as a fireplace.
We also manufacture your custom sofas.
French furniture by Béjannin Paris,
Specialist in manufacturing genuine french club sofa.