Full grain leather designer club chair
This designer club chair is very comfortable thanks to its biconic springs which make the seat very supple and soft.
Compact and elegant, Le Grand Parisien will make a classy addition to your home. Among its strengths are the sharp design and convex armrests, which add a touch of authentic Classic style to the room.
The full grain leather used to craft this chair is made from high quality sheepskin, allowing the chair to develop a unique patina that will improve with time as well as last several decades. Crafted in accordance with tradition as well as technical progress, this designer club chair brings a timeless charm, comfort and resilience.
Buy a club armchair
If you wish to have a live preview of our club chairs, feel free to visit our showroom located 16 rue des Poissonniers in Saint Denis, or our shop located 110 rue des Rosiers in Saint Ouen.
Ordering online is also an option. We deliver all over France and can bring the chair in the room of your choice, even upstairs.
For any additional information, contact us at the +33 142 523 381 or +33 6752 49241
A gift from us
For any club chair you purchase, a pot of leather care wax is included.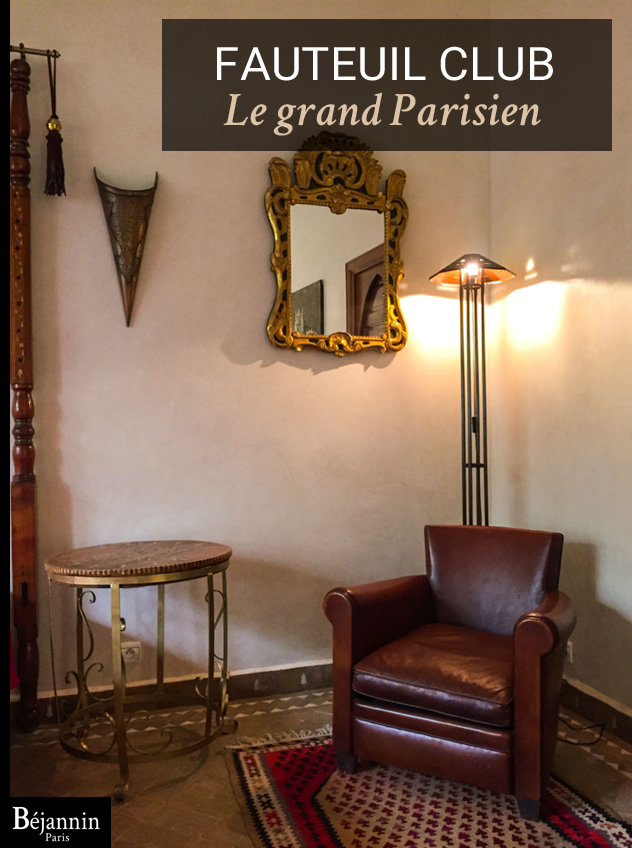 Care advice
Your leather club chair can last several decades and maintain a good appearance if maintained properly.
Full grain leather
Our club chairs are made with full grain leather, which could be compared to natural wood : Both are organic materials, or "alive" so to speak, so they need to be nourished regularly to maintain their original quality. With proper care, the chair's leather can even improve with time.
Cleaning
A club chair's leather can be washed with a damp sponge soaked in a small amount of Marseille soap. Be careful not to use too much as it could turn the leather red.
Polish
Leather care can sound more constraining than it is, however you only need to polish your club chair twice a year. Preferably use natural wax the same colour as the chair.
Daily care
On a daily basis, you can maintain the most used parts of the leather chair by applying neutral cream (without parrafin) and polish it an hour later. This type of care is especially recommended if your chair is exposed to daylight or a heat source such as a fireplace.