Le Billard club chair
Le Billard model is a remarkable club chair that invites you to relax with its generous forms. This armchair was made with full grain leather in our Parisian workshop. Each chair is unique, revealing the small natural imperfections of the leather, which makes all the charm of the leather club chair.
Buy a club chair online, delivery details
You can buy a club chair without concern as our online shop has a protected payment system. Alternatively, if you would rather purchase your chair in person, feel free to pay us a visit at our showroom located 16 rue des Poissonniers in Saint Denis. Following your purchase, your order will be processed within 24 hours and we will start crafting your club chair in our workshop.
Stock and production delay
In-stock models can be delivered within a few days to a week. Out of stock models require a 4-week delay on average in order to craft the chairs. The crafting of your club chair will be scheduled based on the amount of existing orders. Don't hesitate to contact customer service for more information.
Home delivery
Home delivery to the room of your choosing. We will contact you by phone to set an appointment (on working days). We deliver all across mainland France, free shipping in Paris or Ile-de-France.
A gift from us
For any club chair you purchase, a pot of leather care wax is included.
Taking care of your club chair
Our club chairs are made with full grain leather, which could be compared to natural wood: Both are organic materials, or "alive" so to speak, so they need to be nourished regularly to maintain their original quality. With proper care, the chair's leather can even improve with time.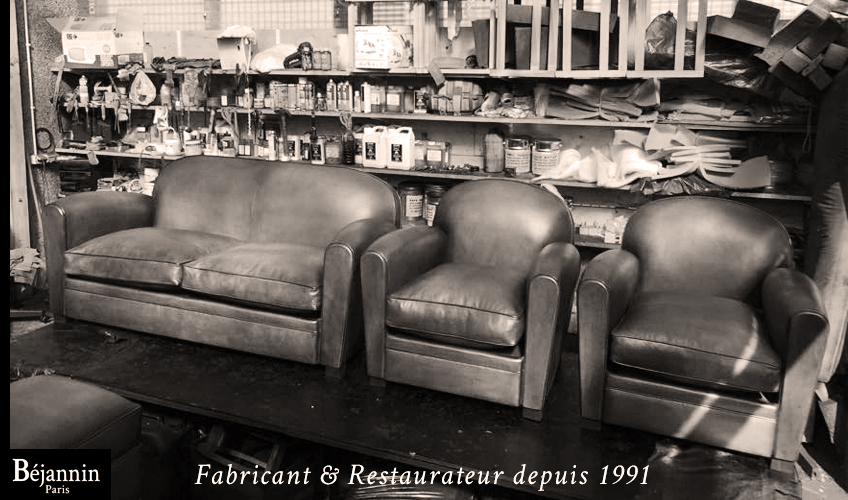 Cleaning your club chair with Marseille soap
A club chair's leather can be washed with a damp sponge soaked in a small amount of Marseille soap. But be careful not to use too much as it could turn the leather red.
Polish with natural wax
Leather care can sound more constraining than it is, however it is easy to do and you only need to polish your club chair twice a year. Preferably use natural wax the same colour as the chair.
Daily care
On a daily basis, you can maintain the most used parts of the leather chair by applying neutral cream (without paraffin) and polishing it an hour later. This type of care is especially recommended if your chair is exposed to daylight or a heat source such as a fireplace.